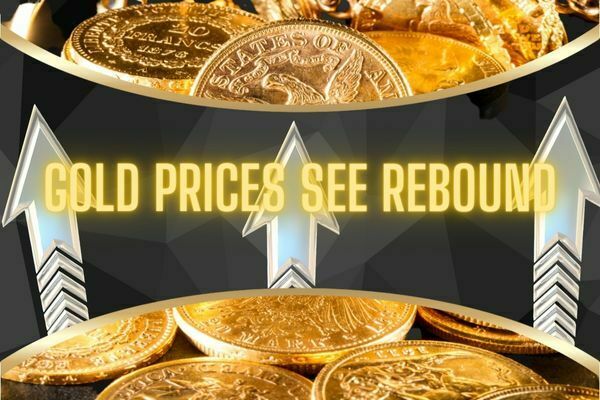 Gold Prices See Rebound From Two-Month Low!
After hitting a two-month low, gold prices have moved up in recent days. Customers may be wondering what's behind the shift, and whether it's a good time to invest in gold. Let's look at some of the reasons for the rebound, and what trends may lie ahead for gold investments.
The Price of Gold
Gold prices saw their biggest daily drop this past Monday. Since then, however, prices have begun to move higher. This is due in part to an increase in demand for safe haven assets such as gold following political uncertainty. As a result, investors are looking to gold as a safe haven asset that can help protect their money from market volatility. In addition to political uncertainty, rising inflation is also driving demand for gold as an investment. Inflation rates are expected to rise over the coming months due to factors such as increasing oil prices and tariffs on imported goods. As inflation rises so too does the value of precious metals like gold, making them attractive investments for those looking to hedge against rising prices.
Furthermore, central banks around the world have been buying large amounts of gold recently, further boosting its price. This trend is likely to continue going forward as many central banks view gold as a way to diversify their reserves and improve their financial stability. Central bank buying has already pushed up prices this year and could continue to do so in 2020 as more banks add gold investments to their portfolios.
Conclusion:
All in all, it appears that now is an excellent time for customers who are looking to invest in gold or add it to their portfolio. With political uncertainty on the rise and inflation expected to increase, now may be an opportune time for customers interested in investing in precious metals like gold before prices start rising again later this year or early next year. For customers who want more information about investing in gold or other precious metals, We can provide guidance and advice tailored specifically to meet individual needs and goals.
Disclaimer: The views expressed in this article are those of the author and may not reflect those of Local Coin Company LLC. The author has made every effort to ensure the accuracy of the information provided; however, neither Local Coin Company LLC nor the author can guarantee such accuracy. This article is strictly for informational purposes only. It is not a solicitation to make any exchange in commodities, securities, or other financial instruments. Local Coin Company LLC and the author of this article do not accept culpability for losses and/ or damages arising from the use of this publication.
RETURN <<